Event Review – Rounds 3&4 SI Champs – an organisers view.
After initial disbelief when the 2009 dates were set, we resigned to taking our turn at running a mid-winter Championship Trial. Eventually the decision was made to use the Jones property near Middlemarch where we had held a round in 2005. State highway 87 occasionally gets closed by snow and ice but we took the risk as many of the properties around the Taieri plains do not have terrain to challenge Expert riders. The MacLeod property on Three Mile Hill was new to us and the offer to use it was quickly accepted as we knew we had some good Expert obstacles plus it is close to town.
Saturday dawned crisp but dry and there were no major dramas getting to the event. A few rocks were frosted and therefore treacherous. Section one had a particularly slippery rock that even a gas torch didn't improve! I doubt the rules about altering sections include artificial thermal modification. Jason Baker was in great form in Experts and was able to clean all the sections with a best lap of 3. He cleanup Karl Clark by 27 points. In A Grade Brad Hibbs continued his good form to beat brother Jay who had only one clean – ironically on the tricky section1! Perhaps the four-stroke Beta was too different. Sam Reid finished 8 points ahead of Glenn Smith in Intermediate even though he only beat one rider on the sloping section 6. Sam, Paul Jackson and Darryl Parkhill where able to clean all ten sections. Largest grade, Presidents had a clear winner in Brendan Wadsworth. The greasy section 1 proved most challenging closely followed by the serpentine section 8. Ross Bristol, Derek Scott and Gavin Fox were the best of the rest. Most were happy with the day.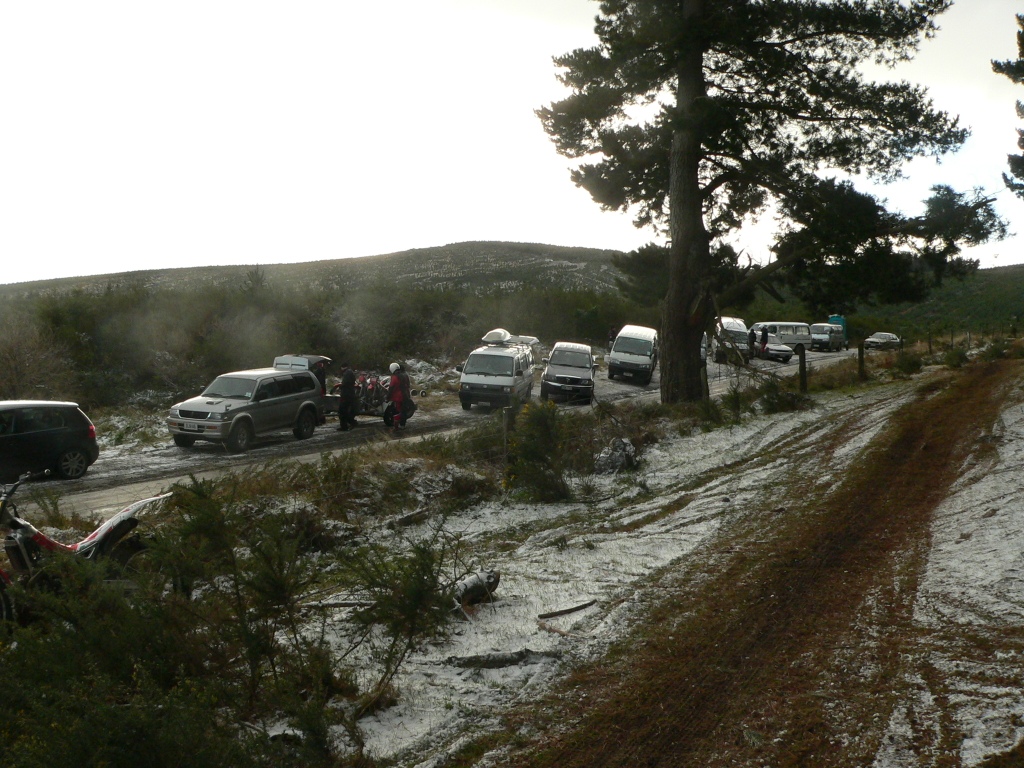 The long dreaded weather arrived on the Saturday night. Snow on top of ice but luckily the grit trucks had been out so getting to the venue was not a problem. Unfortunately the wind and odd snowfall made conditions far from ideal for Observed Trials! A quick poll of the riders resulted in a decision to proceed, marking each other if necessary. A few arrows were dropped (perhaps not enough) and fortunately the observers arrived and amazingly they were happy to stay to see some more good riding. Seven observers did both days! The sections were all in a pine plantation so there wasn't too much snow on the ground however the road was a sheet of ice and there were several spectacular " fives" getting into the forest. Expert grade had a tight battle with Karl back on form to pip Jason by just two points. Three sections weren't cleaned but a one or better was possible on all so the level of difficulty must have been about right. Same couldn't be said for the other grades with both A Graders breaking the ton for the day and Jay breaking his bike. Many of the rocks proved too slippery for most riders in Intermediate with the ground often worn down to reveal rocks that refused to provide traction. Sam arrived late due to SH87 being closed – luckily the snow didn't come a day earlier! He tripled his score but still won Intermediate, this time ahead of Blake Fox. Was it local knowledge? Conditions as they were I doubt anybody could say we set the sections to suit them! Wadsy was again too good for the rest of the Presidents field which all had a tough day – especially on the big log on section 9. Perhaps the green dots were in the wrong place there. The rulebook was brought out as Alan Honeybone lost his first lap card. Fifty points cost him a fourth place.
So two days of Championship Trials completed by a small but committed field (some should be!). Tied weekend in Expert, Brad ahead of his brother and Sam pulling away from the rest – must be all that practise he doesn't do! A countback on ones was required to separate Glenn from the rapidly improving Blake for the weekend. Lean mean Wadsy looks tough to beat but Roscoe on home turf could be tough. Bring on the Christchurch rounds.
S.I.Champs Dunedin July 2009