Well what can I say….. what a fantastic weekend all round. An awesome event made possible by all the Pioneer Club members and supporters. The weekend was held over Queens Birthday Weekend in Christchurch. A great turn out of riders, 72 to be exact. A good job to all those riders who competed, and congratulations on those who took out placing's.
Day one was held in Living Springs just out of Lyttelton, a great we spot tucked away in the valley. As the sun was beaming down I think that most riders (observers and spectators) were glad that the majority of the sections were in under the shelter of the trees.
In Expert Class Jake Whitaker showed he was still number one in New Zealand to take out day one with ease, Marlborough Trials Centre Rider Karl Clark took out second place and Matt Foster in third place. A big effort from Matt Foster who stepped up from A Grade to Expert Class for the his first time as he is looking compete in Expert next year.
A Grade – Nick Oliver who showed great consistency to take out the win and second placing was fought hard between Jim Lowe-Pattie and Carl Robson with only one point difference but Jim Lowe-Pattie came away with the advantage of that one point giving him second place and Carl Robson third.
Intermediate class was also fought closely by the top three placing's with only one point difference between them. Montesa mounted Pete Oliver was first, Mark Ferguson second and Glenn Smith third.Clubman riders also had hot contention for the top three placing's. Daniel Clark taking out first place, Nigel Shilton in Second and Gavin Fox in third.Junior grade was won by Liam Draper, closely followed by Brady Inwood and third to Ben McLeod.President Grade was the second largest class over the weekend. First place was Steve Oliver from Nelson, with the North Islanders Paul McLeod taking second and third place to Kevin Tither.
Day two was held at Horsford Downs just outside Rangiora, a little overcast but still very warm.
Expert Class was won by Jake Whitaker well done Jake on getting a clean second lap, second place to Karl Clark who had another strong ride and third place to Matt Foster.
A Grade rider Nick Oliver came first and it was battled hard for second place again with two riders finishing on equal points, but in the end a good ride by Brad Hibbs took out second place and Jim Lowe-Pattie third.
Intermediate riders were evenly spread for placing's, Pete Oliver took out first place with a 12 point lead over Glenn Smith who came second and Mark Ferguson in third.Clubman grade was closely fought again and with Gavin Fox taking out first place, Danny Spencer in second and Daniel Clark in third, these placing's were going to make it interesting going into the last day.Junior class was so close that the top three riders all finished on zero points. Good ride by them all. So in the end Brady Inwood, Ben McLeod and Liam Draper were all given first place points. This also made it very interesting going into the last day.President Grade was won by Steve Oliver on one point for the day and second on 13 points to local rider Ross Bristol and Brendan Wadsworth in third with 15 points.
Day three was held at Graylees Road, another property tucked away with a good variety of sections. Extremely hot with a lot of people most likely leaving with sunburn, I know I did, ouch not pleasant.
In Expert grade Jake Whitaker took out the win again with spectators getting in on the action, Karl Clark in second and Matt Foster in third.
A Grade was evenly spread with Nick Oliver on 42 points to take the win, Jim Lowe-Pattie second on 55 points and Brad Hibbs third on 76 points.
Intermediate grade rider Pete Oliver got his third win for the weekend with another local rider Glenn Smith in second and Nelson rider Tony Cameron who just returned to the sport after a lengthy absence in third place.Clubman grade was going to be a tight grade going into this day but Daniel Clark took out this days win by one point, second going to Gavin Fox and third to Nigel Shilton.Junior grade was also going to be tough competition for day three but Liam Draper came away with the win, Brady Inwood second and Ben McLeod in third.President grade rider Steve Oliver got his third win and second place again was close with one point in it but at the days end Brendan Wadsworth came in second and John Lawton in third. Another fantastic event! Hope everyone enjoyed themselves. Remember about the next South Island Championship on the 13 & 14 November, hope you all can make it. Look forward to seeing you again then. Until then, as we say
"Keep ya feet up" Debbie ClarkMarlborough Trials Centre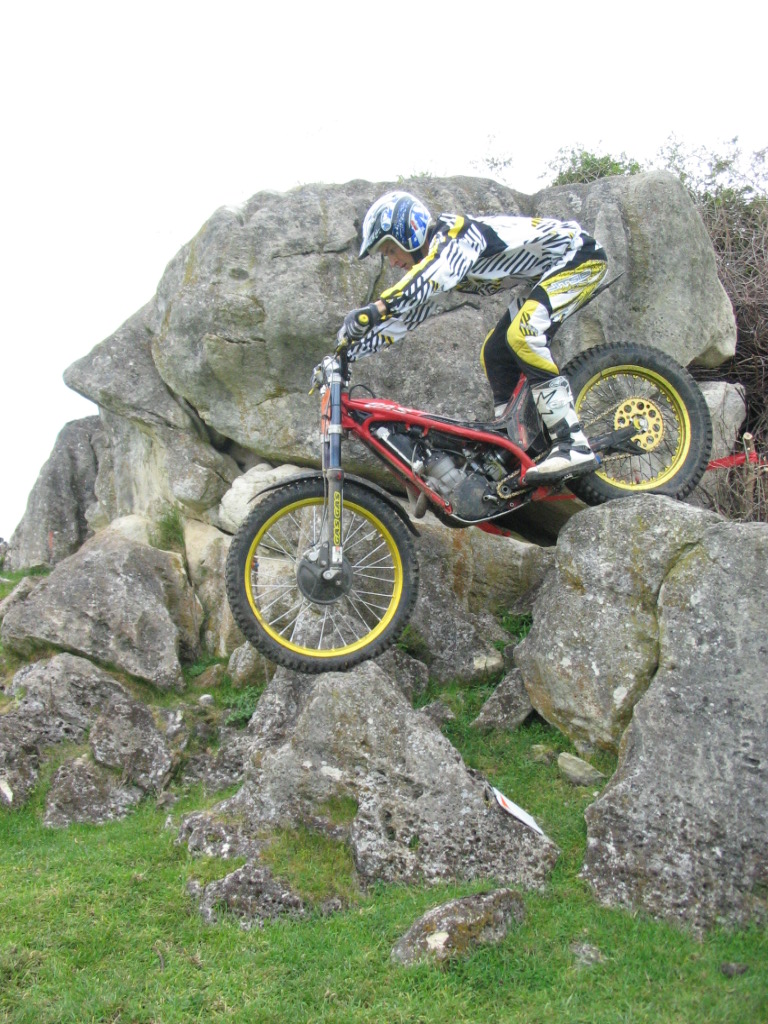 Karl Clark
2010 New Zealand Moto Trials Championship