Question: Can you teach a 48yr old, overweight, tired trials rider with a buggered knee new tricks?
Answer: If you're Jake and Karl you can!
Now I'd be the first to admit that I would have thought the answer to that question would have been a catergorical NO, so at this weekends training days Jake and Karl had a real test on their hands. One they passed with flying colours. On Sunday night as I laid (unable to move) on the couch I had a smile on my face and was quietly chuffed with what I had personally acheived.
The weekend started on Friday afternoon with a bonus session at the Waimak Practice Area that I was unfortunately unable to attend. The three riders who were able to escape work (Stef, John and Andy) spent about three hours at the area getting a head start on what we would be doing over the weekend.
Saturday was a 10 am start at Living Springs and with temperatures soaring above 30 we were greatful of the cover of the trees. The boys started the seven of us on a bank teaching us the "Double Blip" and then moved onto a steep hillside for some off camber turns. Before we knew it it was after 1 and time for a bit of lunch. I wasn't sure who needed the break more, us riders or Jake and Karl who had spent the morning catching, picking us up, encouraging us and demonstrating what we were supposed to be doing. After lunch it was into a slippery creek and another bank but it was easy to see the mornings lessons were starting sink in. Jake and Karl seemed to be helping less and less and we were all starting to get a few "cleans".
We finished the day (around 5pm!) with a bit of a hill climb which involved some techniques that were very foreign some of us older riders. Slipping the clutch wasn't possible on the old Ossa with its "three finger" clutch lever when I was learning to ride trials. This proved to be the highlight of my weekend when to my surprise I found myself at the top off the hill with only a couple of "comfort dabs" at the top. I didn't think I had it in me and to be honest wasn't really keen to try. This feat alone is testament to the coaching ability of the boys. The confidence they instilled in me meant I was able to give it a go and succeed. If only I was 20 30 years younger!
Sunday was another scorcher, with very little shade at Horsford Downs. We decided to get out in the sun early and then head for the shade of trees when it started to get too hot. The days lessons were to be about "the Splat", carrying the front and more clutch slipping hill climbs. Doing "the Splat" was another of those things I really didn't see myself doing but again the boys surprised both me and the others with their easy manner and gentle encouragement and soon I was starting to get the the basics. We started with a small clay bank, moved up to a larger clay bank then onto a small rock. Later we even got to attack a reasonably big log with the same technique. Now I'm not going to be jumping up any six foot steps anytime soon but I did get the feel of it and that's a long way from where I thought I'd be.
The heat started to get to us and we headed for shade and a slippery log and a clutch slipping hill climb with a bit of hopping and balancing thrown in. Once again it was after 1 before we knew it and we stopped for another well earned rest and a bite to eat. After lunch we headed off to some Willows for some more logs and a bit of practice at carrying the front. I don't know if it was the heat or just the intense effort of the weekend but in the end the carrying the front technique seemed to be the hardest for all of us. We ended the day with a bit of a play on the rocks by the cars but in truth exhaustion was starting to take it's toll and the final hour or so are a bit of a blur to me now.
It certainly was a great weekend and something that I now wish I had done years ago. The structure of the weekend was brilliant and having two top riders watching, pointing out where you're going wrong and showing you how to correct it was priceless. I can totally recommend Jake and Karl as coaches and encourage anyone to participate if they ever get the chance. Their energy and enthusiasm was limitless. I am certainly looking forward to another lesson in the future.
I wish Jake all the best for the World Champs this year. Go Kiwi!!
Derek Scott
Jake Demonstrates "The Splat".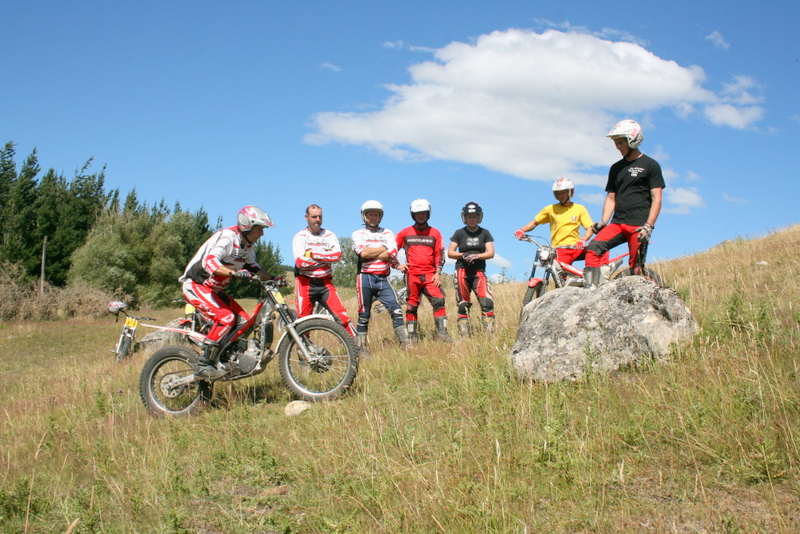 Paul "The Rat" Jackson mastered this one.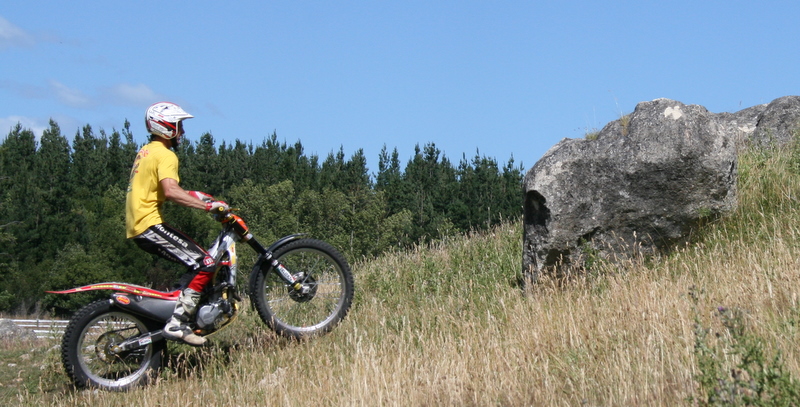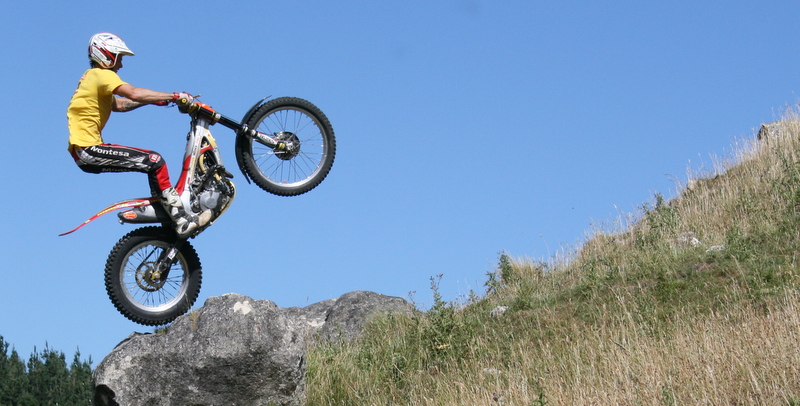 Karl Demonstrates "The Splat" and "Carrying the Front"
Jake Whitaker Training Days – The Club Captains Review