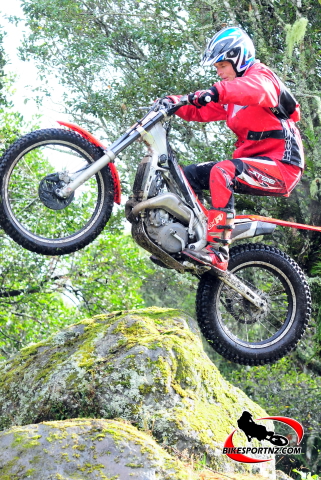 Napier's Warren Laugesen, making a rare appearance on home turf this weekend.
Photo by Andy McGechan, BikesportNZ.com
AUGUST 21, 2012: This year's North Island Moto Trials Championships may go down to the wire as it wraps up with the final two rounds in Hawke's Bay this weekend.
The eight-round series kicked off with rounds one and two in Taranaki in February, followed by rounds three and four in the Bay of Plenty in April, while rounds five and six followed in the Wellington region last month.
This weekend the nation's motorcycling elite converge on Hawke's Bay for the final two rounds, on Saturday and Sunday, and they can expect terrain that will challenge even the best of them.
Day one on Saturday is on McDermott's property, Maraetotara Road (signposted off Waimarama Road, Havelock North), with competition set to start at 10am. This course will feature rocks a native bush and it is expected to be very slippery under the bikes' wheels.
Day two on Sunday is set for Couper's property, on the back side of Te Mata Peak, again signposted from Waimarama Road, Havelock North. Steep, rocky outcrops will be the order of the day at this venue.
Among the "rock stars" expected to arrive this weekend are Nelson's Karl Clark and home-town favourite Warren Laugesen. Current national champion and Kiwi international Jake Whitaker is competing overseas and won't make an appearance here this weekend, leaving the North Island series title chase wide open. Laugesen is a seven-time former national champion but he has scaled back his riding over the past few years as he concentrates on his role as a coach. He said he will "dust off helmet and boots to give it a crack" this weekend, but modestly points out that he's "not expecting miracles".
The premier Experts Grade is particularly fierce this season and, aside from Clark and Laugesen, top riders expected to feature this weekend include Reporoa's John Haynes, Tauranga's Phillip Shilton, Dunedin's Blake Fox and Blenheim's Jason Baker. Teenager Haynes is one of the sport's rising stars and, with recent mentoring from Laugesen, he could be the man to watch.
The prime requisites for the sport of Moto Trials is balance and throttle control and even riders at the bottom of the rankings exhibit scintillating skills in this regard.
Lower Hutt's Carl Robson has stood out in the A Grade this year and he will again be expected to lead the way this weekend, although Nelson's Callum Anderson, Hawke's Bay's Mark Ferguson and Te Kauwhata's Corey Davies should be a threat.
It is the battle of youth versus experience in the Intermediate Grade where Ashhurst veteran Kevin Pinfold faces a tough challenge from young Auckland rider Liam Draper. Waihi's Gary Samson is the defending champion in the Intermediate Grade and he will most likely again be battling with Auckland's James Snowden, Auckland's Peter Boettcher, Te Puke's Peter Blaymires and young Te Puke rider Benjamin McLeod.
Rangiora's Paul Jackson and Tauranga's Warwick Merriman have been outstanding in the Presidents' Grade and they will be wary of the threats posed by men such as Te Puke's Paul McLeod, Blenheim's Brendon Wadsworth and Paraparaumu pair John Lawton and Kevin Tither.
With this branch of motorcycling sport, the emphasis is not on speed. The prime aim is on conquering the extreme terrain without touching feet on the ground or falling off. Points are lost for these "faults" and a rider with the lowest score wins.
Access to both days' riding will be signposted from the respective main roads. There is no charge for spectators. Riding starts at 10am on both days.
Words and photo by Andy McGechan, www.BikesportNZ.com
SERIES TO WRAP UP IN HAWKE'S BAY