Moto Trials is a branch of motorcycle sport where speed is not essential but competitors are still going to have to be very quick indeed this weekend if they are going to have any hope of catching five-time national champion Jake Whitaker.
The eight-round North Island Moto Trials Championship series kicked off with rounds one and two in Taranaki in February and Whitaker was far and away the dominant rider on that weekend.
His rivals are going to have to quickly work out how to match, and possibly beat, the talented 20-year-old at rounds three and four, set for the Bay of Plenty region this Saturday and Sunday.
The prime requisites for the sport of Moto Trials is balance and throttle control and even riders at the bottom of the pecking order exhibit scintillating skills in this regard … it's just that Kiwi international Whitaker is freakishly good.
So the pressure goes on this weekend for Expert Grade title hopefuls such as Motueka's Karl Clark.
Dunedin's Blake Fox and Tauranga's Phillip Shilton have elected to step up from the A Grade to the Experts' Grade this season, along with young John Haynes, from Reporoa, and they, too, will be looking to challenge Whitaker.
Day one on Saturday is scheduled for Everett's property, Wharry Road, Waihi, while day two on Sunday is set for Muir's property, No.4 Road, Te Puke.
Riders can expect slippery ravines and moss-covered rocks to tackle on day one and a river bed with big boulders will test them on day two.
"A group of riders from the South Island has also committed to contesting the North Island Championships this season, giving us an entry list that would easily match that of a national event," said North Island Moto Trials Championships co-ordinator Paul McLeod, of Te Puke.
"This will possibly be the last major event in New Zealand before some of these riders head across the Tasman to contest the World Junior Trials Championships in Australia at the end of next month – it will be a good blow-out for our top Kiwi hopefuls such as Jake Whitaker, Blake Fox and John Haynes."
Lower Hutt's Carl Robson was top rider in the A Grade at rounds one and two of the North Island champs and he will again be expected to lead the way this weekend, although Nelson's Callum Anderson and Te Kauwhata's Corey Davies should keep him honest.
Young Auckland rider Liam Draper has been something of a revelation in recent months and he surprised his more experienced rivals when he won the Intermediate Grade at rounds one and two.
Defending champion in the Intermediate Grade, Waihi's Gary Samson, will be aiming to lift his game this weekend, as no doubt will Ashhurst's Kevin Pinfold, Auckland's James Snowden, Auckland's Peter Boettcher and Te Puke's Peter Blaymires.
Rangiora's Paul Jackson leads the Presidents' Grade after the opening two rounds, he knows he can expect a backlash from Tauranga's defending champion in the class, Warwick Merriman.
It will also be worth looking out in this grade for notable riders such as Auckland's Raymond Skinner, Tauranga's Nigel Shilton, Hamilton's Peter Osborne and Paraparaumu pair John Lawton and Kevin Tither.
Te Puke's Benjamin McLeod and Reporoa's John Haynes should be features in the Junior Grade at the weekend.
With this branch of motorcycling sport, the emphasis is not on speed, with the prime aim being to conquer the extreme terrain without touching feet on the ground or falling off. Points are lost for these "faults" and a rider with the lowest score wins.
Access to both days' riding will be signposted from the respective main roads. There is no charge for spectators. Riding starts at 10am on both days.
"I'd like to thank Te Kuiti's John Ravenscroft too for all the work he does to handle the on-line entries and deal with the event scoring too," said McLeod, himself also a leading competitor in the Presidents' Grade.
The eight-round series next heads to the Wellington region for round five and six on July 7-8 and then wraps up with the final two rounds in Hawke's Bay on August 25-26.
Words and photo by Andy McGechan, www.BikesportNZ.com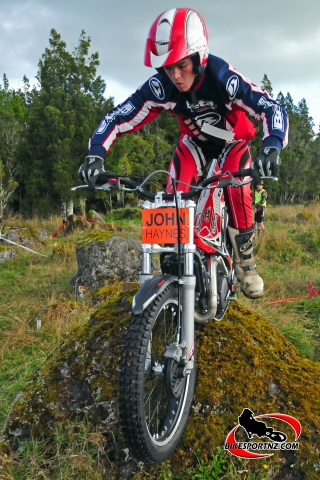 TITLE HOPEFULS CHASING WHITAKER